So apparently it's Peer Review Week 2016, at least on Twitter. I thought I'd take the time to sketch out a few thoughts on the topic.
From my perspective, as someone who has contacted, discussed, and, mainly, negotiated with peer reviewers, they hold a special place in theAdmin's heart.
To put it bluntly, peer reviewing is what makes the academic world go round. Is it perfect? Of course not. But the reviewers who ensure integrity in what is published, thus helping to create the body of scholarship required for any academic community, are more than just cogs in the great machine of publishing. How should peer reviewers be recognised? This is one of the main questions that pops up when discussing reviewing. For a double blind system to work, recognition is inherently difficult. Open peer review is a different story, but there are inherently difficult issues with both forms. Recognition-wise, is being included in a list at the end of a volume good enough? Is it enough to receive an automated email (however sincere) thanking you for your time and inviting you to submit your own work?
The answers are, usually, no. Peer reviewers are some of my favourite people. Usually charitable, enthusiastic, innovative, and encouraging scholars who wish for nothing more than to help better their field by helping to create better scholarship. There are of course exceptions, but 9.9/10 who agree, do so with the best interest of the author and the field at heart. I've received countless confidential notes with reviews stating that if this is an ECR instead of a SCR, then they would like to modify the language to be more encouraging....if someone is at the beginning of their scholarly career then there is a massive amount of potential and they'd like to help with development.
But how do we, as members of academia, recognise this hard work and this development potential? We must, firstly, recognise that what I like to refer to as "Reviewer Fatigue" is a real issue. This is when a good, solid reviewer is asked to review so many times that they either (A) grow tired of it and move on to something else or, more commonly (B) simply cannot complete the number of review requests in the time they have allotted for reviews. Reviewer Fatigue emerges for several reasons, and keeping it at bay was one of my main goals. Editors can quite easily become exasperated with repeated denials to review for whatever reason and so can quite easily begin to rely on a reviewer who repeatedly provides excellent quality - and just as importantly - timely reviews in order to meet the strict copy deadlines. And I don't mean to say that Reviewer Fatigue is generated by editors. The solution is a complicated one - one way theEditor dealt with it was when someone became such an integral part of the journal's processes for this reason, the reviewer was invited to join the editorial board. So, in part, recognition was duly awarded within the constraints of what an academic editor can actually do (keep in mind that who owns the journal and its revenue and who edits/runs the journal are two entirely separate entities, which is a debate for another time).
But I digress. So, what was my main reason for wanting to jot down some thoughts this week? Purely and simply to say one thing:
THANK YOU TO EVERYONE WHO REVIEWS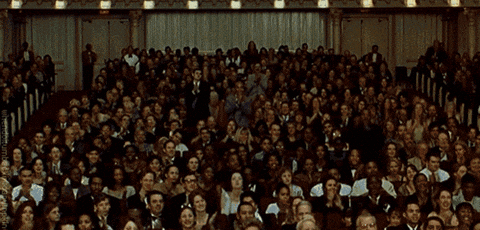 Seriously, give yourself a round of applause.......

giphy.com
-theAdmin